I wanted to publish for some time now a very simple comparison of Baofeng / Profung Amateur Radio devices. You can find those devices for a cheap buck anywhere on the net and this is how i fell over them as well a few years ago. Something needs to be said before starting: You need a Amateur Radio License to use these devices! They are not allowed to be used by everybody, even if a lot of sellers do say so in the online shops. And you are not allowed to use them on PMR, LPD or Freenet Frequencies. So if you respect these rules you are good to go!
That said, there are some other information's, you should know for these devices. They come from China and the quality is what you pay for! Honestly in my opinion the production quality is excellent. The houses of the devices are of excellent plastic. Some of you might say, that they can not be compared to the high quality devices from other brands, but honestly paying twice or even ten times the price of some devices is nice if you don't have anything else to do with your money! For starters, simple projects or small budget people, they might be a real alternative.
The only tricky thing about the devices is the programming. If you would like to do it by the official software, you will be reminded how Chinese they are. The software always starts in some Chinese signs and you need to find the menue with the languages. But as soon as you get that, you're ready to go! One last thing about software for your devices. For each model there is a different software and you need the right one to be installed and used for each model. Chirp works as well but not all functions might be working.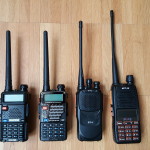 Model
UV-5R
Baofeng
UV-5R+
Baofeng
GT1
Pofung
GT3
Pofung
LCD Screen
Yes
Yes
No
Yes
Band
70cm + 2m
70cm + 2m
70cm only
70cm + 2m
Double PTT Button
No
No
No
Yes
Power Output
4-5 Watt
4-5 Watt
2 Watt
4-5 Watt
Price
+/- 33 €
+/- 34 €
+/- 20 €
+/- 43 €
Remarks
At the beginning was… Follow up of the UV-3R but a major improvement apparently!
The Plus version apparently does a little more frequencies on the edge and it has a shiny front panel. It's the classic Baofeng device!
Very simple and cheap 70cm device. Has a simple voice scrambler integrated.
Has different LCD Screen (honestly not optimal for use in the sun) but has the double PTT button (no need to switch channels for talking on different channels).
Me for my part I am very satisfied for what I paid for! I do also own Yaesu devices and have access to various other manufacturers of professional devices, and I have to say that the signal might be more clean than on the china devices, but for my private needs it is more than enough!